WHAT TO DO IN CANCUN? & 6 THINGS YOU SHOULD KNOW WHEN YOU ARRIVE IN CANCUN
Cancun has a lot of activities you can enjoy during your stay, you can enjoy activities for all ages, tastes and genres, ecological and enjoy nightlife activities, cancun has everything you need to make your trip enjoyable and totally unforgettable. Discover what cancun offers.
Water Sports in Cancun
Cancun offers great aquatic experience, offers the best diving, fishing in the world. There are different ways to perform this activity with several services where you can enjoy a great experience with all his crew.
Mayan culture
The Mayan culture is present throughout the region, discover the fascinating ruins of a great civilization, check out the best archaeological sites are so close as to not visit.
Restaurants Cancun
Cancun restaurants offer a wide range of cuisines, traditional Mexican restaurants to ultra restaurants located along the Nichupte lagoon. Definitely find something to suit all tastes and suit all budgets, you will receive a great service where you go.
Adventure in Cancun
You can find amazing places like cenotes, driving a jeep between the jungle, or cycling in nearby areas.
Nightlife in Cancun
Cancun's nightlife is renowned worldwide. The Hotel Zone boasts of having some of the hottest nightclubs on the planet and they all play rhythms from salsa to disco, there are also bars with live music. Find something for all ages and tastes.
Public transport in Cancun
Previously we provided information on how to transport in the hotel zone of Cancun and in this article we share tips and recommendations to mobilize in the Center of our growing city in a safe and above all economic. Well, the public transportation that as tourists will use if they are in the Center of Cancun, transits on two main avenues that are Coba and Tulum; We must also mention other important avenues like Bonampak, Nichupte and Portillo although you are only as reference points.
Av. Coba, starts at the Glorieta Fonatur and its route takes us to places of great interest like Supermarkets (Walmart and Chedraui) and only a few meters from the well known Market 28. This avenue is the continuation of the Boulevard Kukulkan (only road in the Hotel zone). On this avenue you will be able to take the R-2 Buses that come from Hotel Zone, to reach the points mentioned above. Although there are more buses, it is always advisable to take the Hotel Zone as drivers are accustomed to deal with tourists and warn when they reach a point where tourists should generally go down.
Av. Tulum, undoubtedly the most important, as it crosses the whole Center. Here we must clarify that there is a middle point, which is where Av. Coba crosses Av. Tulum and right there is a colorful gazebo known colloquially as "El Ceviche". On the way between Av. Coba-Av. Portillo is the Munipal Palace, the ADO Bus Terminal and in the end a small park known as "El Crucero" where there is a popular Plaza called Las Tiendas. For this journey on the R-1 Bus you can easily reach any of the points mentioned above, taking it in the direction of the "Cruise". The route between Av. Coba-Av. Nichupte is more crowded by tourists, as there are various hotels and restaurants, as well as the most famous and important shopping center in the center, Plaza Las Americas, for this trip it is best to take a taxi, since the usual routes could confuse you And take you to the colonies instead of the commercial squares. We recommend asking some passerby the approximate cost of the taxi, and also ask the taxi driver before going up so as not to be surprised, sorry to say but it could happen, so better to be warned.
Av. Bonampak, it is parallel to the Tulum Ave., the important route is between Coba-Av.Nichupte Av. Where is the beginning of Boulevard Kukulkan, that is to say Hotel Zone, as well as several hotels, the Bullring and the most Recent Plaza Malecón Americas, which is just behind Plaza las Américas, both places connected making the largest, varied, modern, busy and best Plaza Shopping Center in Cancun so far.
If you are off one of these main avenues, we recommend seeing the map below to get to these avenues or take a taxi if you are more retired. We hope this information is useful, but if you need advice for your stay and mobility in Cancun, contact us and we will gladly help you plan your vacation.
All airports are not created equal. Whether you are visiting Cancun, Playa del Carmen or the Riviera Maya, you will fly into Cancun International Airport. Here are six things you should know that will help you have a smooth experience.
1. The airport has three terminals.
The Cancun airport used to be pretty small, but it now has three terminals. Terminal 1 is for charters and private flights, Terminal 2 is mostly for domestic flights and the shiny new Terminal 3 is for international flights.
2. There are many ways to get to your resort.
Did you know that street taxis can take you to the airport but they can't pick people up at the airport? However, if you haven't made arrangements prior to your arrival you can hire a private taxi, a shared van, or you can take the ADO bus (which leaves from Terminal 2 so you will have to take the free shuttle if you flew into Terminal 3) to downtown Cancun or Playa del Carmen.
Distance Between Cancun and Major Towns
| | | |
| --- | --- | --- |
| TOWNS AND CITIES | DISTANCE | ESTIMATED TIME |
| Puerto Morelos | 25.5 km | 25 minutes |
| Playa del Carmen | 55 km | 45 minutes |
| Puerto Aventuras | 77.3 km | 60 minutes |
| Akumal | 91.6 km | 75 minutes |
| Tulum | 125 km | 100 minutes |
| | | |
Distance Between Cancun and Your Hotel
| | | |
| --- | --- | --- |
| RIVIERA MAYA HOTELS & RESORTS | DISTANCE | ESTIMATED TIME |
| Moon Palace | 10.5 km | 13 minutes |
| Royalton Riviera | 18.4 km | 28 minutes |
| Secrets Silversands | 19.8 km | 17 minutes |
| Now Sapphire | 22.6 km | 18 minutes |
| Dreams Riviera | 23.1 km | 20 minutes |
| Hotel Marina El Cid | 27.5 km | 25 minutes |
| Iberostar Paraiso | 36 km | 25 minutes |
| Grand Mayan | 36 km | 27 minutes |
| Secrets Maroma | 40.1 km | 30 minutes |
| El Dorado Maroma | 42.9 km | 33 minutes |
| Hacienda Tres Rios | 44.8 km | 32 minutes |
| Secrets Capri | 46.5 km | 33 minutes |
| Mayakoba | 46.5 km | 33 minutes |
| Grand Velas | 49.1 km | 36 minutes |
| Grand Riviera Princess | 50.1 km | 41 minutes |
| Azul Fives | 50.6 km | 41 minutes |
| Sandos Caracol | 51.9 km | 43 minutes |
| Paradisus Perla & Esmeralda | 52.5 km | 44 minutes |
| The Royal Playa del Carmen | 55.4 km | 50 minutes |
| Reef Coco Beach | 54.7 km | 48 minutes |
| Thompson Playa del Carmen | 55.5 km | 50 minutes |
| Hard Rock Riviera Maya | 76 km | 65 minutes |
| Dreams Puerto Aventuras | 77.8 km | 70 minutes |
| Barceló | 78.9 km | 70 minutes |
| Secrets Akumal | 91.3 km | 75 minutes |
| Grand Bahia Principe | 95.9 km | 90 minutes |
| Dreams Tulum | 110.6 km | 100 minutes |
3. There are rules about what you can bring into Mexico.
In general you are allowed to bring whatever you need for the time period you will be staying in Mexico. The items customs are generally the most strict about (besides illegal items obviously) are electronics, especially laptops, iPads, etc. Don't bring more than one of each. If you need more specific information you can find it on the official Mexican Customs webpage.
4. Don't lose your Tourist Visa.
When you pass though immigration (these are the people who check your passport, customs are the people that check your luggage and make you push the green/red light) you will be given an FM-T or tourist visa. Do not lose it as you will need it to leave Mexico. If you do happen to misplace it you will have to pay a fine when you leave.
5. It will take between 15 and 60 minutes to get to your resort.
How long will it take to get to your hotel? Well that depends, if you are staying in the Cancun Hotel Zone, it could take as little as 15 minutes or as much as one hour depending on where your hotel is located. The same goes for hotels located in the Riviera Maya.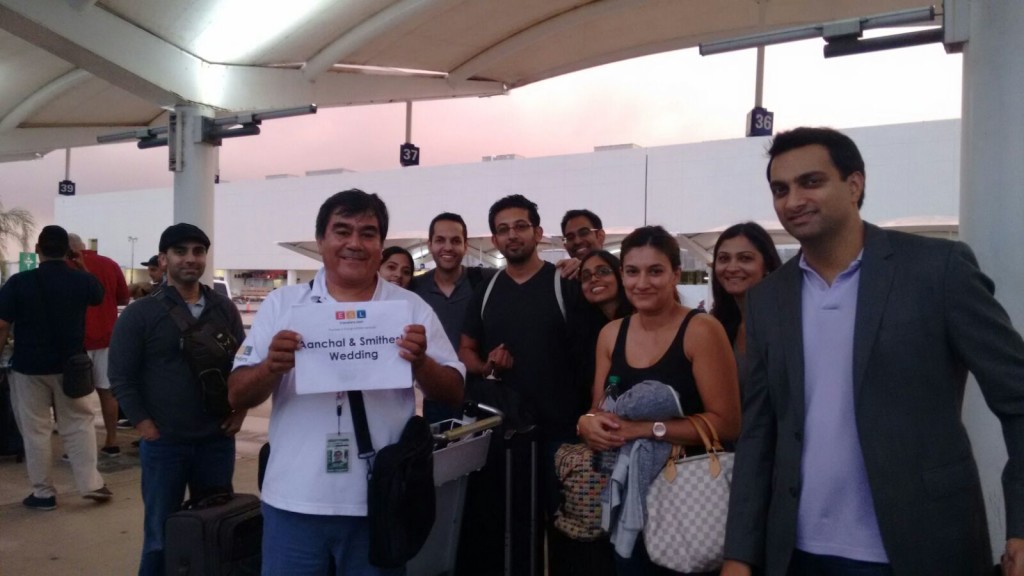 6. If your luggage is lost, the airport can't help you.
The Lost & Found Department at the airport operates independently and is run by the Security Office. They are not responsible for luggage and/or items left on airplanes. These issues are handled by airline personnel. If you are missing a piece of luggage or your luggage was damaged you must contact your airline directly. The airport cannot assist you with these issues.
Tags: Cancun airport Cancun International Airport Cancun transfers FM-T Mexican customsPlaya del Carmen airport Riviera Maya airport tourist visa Mexico visa Mexico what can I take into Mexico.